Locals promote participation in national, global programs
The following article was published in The Kentucky Standard on May 24, 2019, featuring one of NHSMUN's delegates and her terrific initiative to promote MUN in her area. The article is posted with permission from The Kentucky Standard.
A local eighth-grader is promoting participation among area high school students in Model United Nations programs after taking part in events in New York and Germany this spring.
Reagan Trzop, along with her father, Pete Trzop, spoke with student council members at Nelson County and Thomas Nelson high schools earlier this month about the experiences, and why it is important for more Kentuckians to be involved.
In March, Reagan participated in the National High School Model United Nations conference in New York City, where, even as a middle-schooler, she was able to take part in a number of unique opportunities.
"We actually got to go to the actual United Nations office and sit there for the closing ceremony," she said. "That was really cool."
The following month, she traveled to Germany for an MUN conference there.
In addition to sightseeing and developing friendships with students from other states, participants had the chance to interact with diplomatic representatives, as well as take part in debates, presentations and challenges exploring diplomacy, international affairs and problem solving.
When speaking with the older students, Reagan said not only were the programs fun, but they were also educational. She said she learned more about how the United Nations operates and its importance, as well as developed her communication skills networking and interest in current events.
Pete Trzop said the MUN conferences teach students about leadership, which directly relates to the county's goal of preparing students for a global setting. Reagan took part in the New York and Germany programs to "test the waters," and they hope Nelson County Schools will be on board with supporting future participation from more of its students.
Trzop said participation from kids in Kentucky has been very limited in MUN programs, and nonexistent in Nelson County. He wants to see that change and said his daughter's participation helped develop a "pipeline" to make those connections.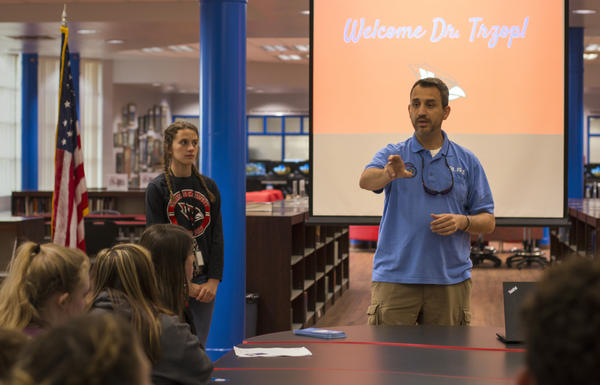 Peter Trzop and daughter Reagan, left, speak with the Nelson County High School Student Advisory Council Monday about Model United Nations programs and why Kentuckians should be involved.