NHSMUN Recognized by UNHCR as Best MUN Winner in MUN Refugee Challenge
NHSMUN is excited to be recognized by the UNHCR, the UN Refugee Agency, as one of the winners of the 2020 MUN Refugee Challenge. NHSMUN 2020's Social, Humanitarian & Cultural (SOCHUM) Committee submitted the winning resolution, which was recognized as one of two Best MUN winners in the category of "Countering Toxic Narratives."
While NHSMUN is honored to be recognized by the UNHCR for this achievement, the true recognition belongs to the NHSMUN 2020 delegates, who distinguished themselves among the 20,000 total students in 75 countries who participated in the challenge. NHSMUN has long been recognized as having the strongest substantive program on the Model UN circuit. This recognition from the UNHCR is not only a testament to how talented NHSMUN's students are; it is also an affirmation that NHSMUN's committees truly feature some of the highest-level debate available to young learners today. We extend our congratulations to all of our students, teachers, and schools for this recognition, and most importantly, for making NHSMUN such a special experience!
From the UNHCR Press Release:
In 2020, UNHCR, the UN Refugee Agency, launched the MUN Refugee Challenge to encourage Model UN delegates worldwide to debate major issues related to forced displacement.
Throughout 2020, more than 20,000 students in 75 countries took part in the MUN Refugee Challenge. And over 100,000 students learned about forced displacement through their peers and the UNHCR and refugee guest speakers who joined their MUN.
The resolutions that emerged from these debates were put before a jury composed of UNHCR members, young refugee leaders and independent experts. The resolutions were assessed according to the students' knowledge and understanding of the topic and the quality and implementability of their recommendations.
UNHCR is recognizing two winners and two special mentions in each of the four debate categories: 1) Climate and forced displacement, 2) Countering toxic narratives, 3) Economic inclusion of refugees, and 4) Access to education for refugees. Five MUNs are also receiving best communication awards.
The winners for this year's Challenge were officially announced on December 9th, 2020, during the closing session of the High Commissioner's Dialogue on Protection, in the presence of policy-makers, refugees, experts and scholars.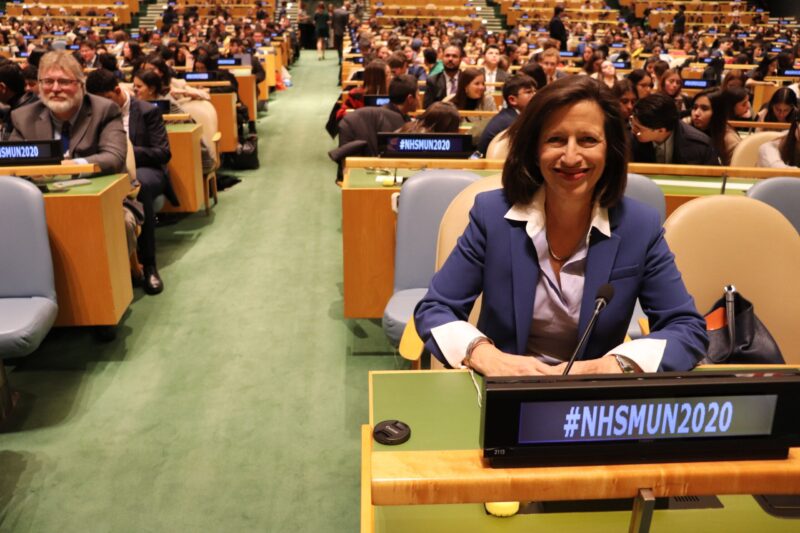 UN Under-Secretary-General for Global Communications, Melissa Fleming, attends the opening ceremony of the 2020 National High School Model UN, which brought together 5,000 students to talk about the importance of protecting refugees and resulted in a resolution to address hate speech about refugees.